CMTF – Fall 2013 Show Date Announced
CMTF – Fall 2013 Show Date Announced The new Calgary Moms Trade Fair fall show date was announced to all previous April 20th, 2013 exhibitors yesterday early afternoon. Pre-registration allows all previous exhibitors the right to have first dibs on tables and table location before everyone else. Any exhibitors that attended the last show (April 20, 2013) can apply for a table until May 12th, 2013 then all other future exhibitors may apply as of May 13th.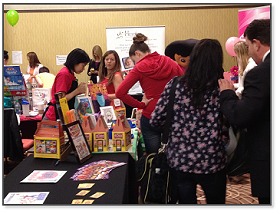 Calgary Moms Trade Fair
Saturday, November 16th, 2013 ~ 9:30am-3:30pm.
Courtyard Marriott ~ Calgary Airport ~ Conference Centre at 2500 48th Avenue NE.
Why should you exhibit? Trade shows are a high traffic one-stop shopping experience for consumers looking specifically for your products and services. Exhibiting exposes you to a targeted audience in a cost effective way. Personal interaction, product/ service display and sale, sampling and generating leads will give families many ways to remember you. See current list of exhibitors for our November 2013 trade show.
Who should exhibit?
Maternity Fashion & Accessories
Health Care providers
Prenatal / Postnatal Services
Safety products
Childbirth & Breastfeeding Education
Prenatal / Postnatal Fitness
Diaper products & services
Baby Equipment
Strollers & Carriers
Toys & Gifts
Childcare Centers
Health, Beauty & Personal care
Children's Activities & Education
Family Vacation
Sports & Recreation
Mommy Classes
Parenting Classes
Baby & Children's Clothing & Accessories
Products / Services targeting families
Information & Education for families
Work at home services
apply for a table – REMEMBER – pre-registration is for April 20th previous exhibitors ONLY!