Trade Show Exhibitors – Calgary Moms Trade Fair
Shop, browse and interact with our trade show exhibitors on Sunday, November 4th, 2018 in the Community Gym at the Genesis Centre. Find the latest in local products & services that are available for you and your family. From new brands & businesses that have recently launched, to the latest mompreneur inventions & gadgets, to the all-time favorites. All tables tend to book so reserve your table of choice early!
Trade Show Exhibitors – Businesses in BOLD are officially booked.
1) Brost Chiropractic & Wellness Centre (Dr. Brost)
2) Beautycounter (Ange)
3) Never Grow Up Bows (Amanda)
4) Thunderdome Amusements (Punteha)
5) Young Living (Amber)
6) Carefind (Erica)
7) Arbonne (Christina)
8) Scentsy (Charlene)
9) Mary Kay (Andrea)
10) Allure Aesthetics (Kate)
11) Sylvan Learning Centre NE (Lesley)
12) Knowledge First Financial (Kathy)
13) Ambit (Teresa)
15) Rainbow Systems (Jason)
16) Tupperware (Andrea)
17) Family Braces (Kathy)
18) Primerica Financial Services (Lance)
19) Jena Lee Photographs (Jena)
20) Elevate Life (Susanne)
21) Once Upon A Child (Anna)
23) Glitz Glitz (Laraine)
24) Big Little Parties (Carla)
25) Happy Feet Calgary (Chris)
26) Thirty One Gifts (Gina)
27) Pink Zebra (Trina)
28) Heritage Education Funds (Karen)
29) Vivint (Thayne)
30) Crafty Canuck Creations (Melodie)
31) Doterra (Holly)
32) Vecova Recreation Centre (Laurie)
33) PartyLite (Tharon)
35) Ch.I.L.D. Research Group (Mandi)
36) Unique Leather Products (Yetunde)
37) Colors4u (Carolina)
41) Forever Photographs (Krista)
42) Pampered Chef (Amanda)
43) Usborne Books (Hiransh)
44) JA Surrogacy Consulting (Barbara)
46) Hello Fresh (Allen)
48) Monat (Stephanie)
49) Retouch Epilation (Dilek)
51) The Vital Posture Clinic (Dr. Speranza)
53) 30 Minute Hit (Linsay)
54) Little Lifelines CPR (Jillian)
55) Norwex (Caroline)
58) Plexus (Karyn)
63) Raw and Tapped (Marta)
66) Great West Inspections (Dorothy)
68) You Had Me at Merlot Inc (Rachelle)
70) Avon (Anita)
73) Eden Maternal & Newborn Care (Narisa)
Face Painter) Happy Faces by Marni
Mascots) Princess Parties by Mimi
-*-*- = currently not available – booking these tables last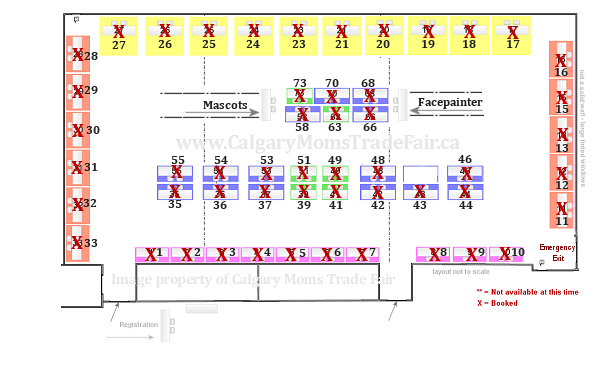 Interested in attending our future trade shows? Please join our mailing list for show updates and information. Join Now!

.