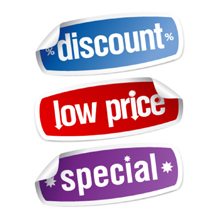 Calgary Moms Trade Fair ~ Show Specials ~ Sunday, November 4th 2018
Beauty Counter ~ Table #2 – Free Shipping on Orders placed the day of the Show, or 10% off physical products on the table.
Never Grow Up Bows ~ Table #3 – Mini Bows are 3 for $15 and Large Bows will be 2 for $15.
Thundrdome Amusements ~ Table #4 – 10% discount on all Thundrdome activities and offerings (offer excludes The Rage Room, ThundrCamp and Venue Bookings)
Young Living ~ Table #5 – Save 10 % and get a mini pocket reference guide free, if you purchase one of Young Livings premium starter kits today at the show! After show special – Purchase one of Young Living's premium starter kits  before the end of November 2018 and receive a free coil pocket desk reference, a $25.00 value!
Scentsy ~ Table #8 – Buy 5 bars get one free for $42 with tax.
Allure Aesthetics ~ Table #10 – 10% any purchase
Jena Lee Photographs ~ Table #19 – All Your Baby's First Year portrait sessions booked at Calgary Mom's Trade Fair include a complimentary 16×24″ Wall Art (one per family/person). Jena Lee Photographs also has handmade baby teething toys as gifts for the first nine parents who book a portrait session.
Pink Zebra ~ Table #27 – Sprinkle Jars $10 each or three for $25! A PZ Simmer pot and Sprinkle Jar of your choice, $40.
Crafty Canuck Creations ~ Table #30 – buy 4 or more items from my table and get 10% off your total order
Doterra ~Table #31 – Come on by Table #31  for Free Wellness Consults,  Introductory Oil Kits $34.00,  Wholesale Memberships,  Sign up for a Free Essential Oil Class Or Make and Take!!   Raffle for Wholesale membership $45.00 value!! Oils, Oil Education and More!
Vecova Recreation Center ~ Table # 32 – With every Water Shoe purchase, receive a complimentary Family Swim Pass. (Limit of one pass per family/no cash value)
Colors4u Inc ~ Table #37 – Get Freckles is a specialized online store of Hair and Clothing accessories. Visit www.getfrecles.ca and apply coupon WELCOME! At checkout to get 10$ off of your first online purchase of 30$ or more.
My Forever Photographs ~ Table #41 – One day only discount on 1 hour sessions with booking deposit made. Reg price $290 show special  $200
Pampered Chef ~ Table #42 – Place an order at the show and receive free shipping on your order.
The Vital Posture Clinic ~ Table #51 – Are you someone who suffers from dizziness, headaches, or neck pain? We may be able to help! The Vital Posture™ Clinic has helped hundreds of people with these conditions using the very gentle NUCCA procedure to evaluate and treat head and neck injuries. Come have a quick postural assessment to see how your posture may be influencing your everyday activities! For anyone who signs up for a one-hour consultation all proceeds will be donated to Catherine Nichols Gunn Elementary School to help provide children with warm clothes for this coming winter.
Little Lifelines CPR ~ Table 54 –  Little Lifelines CPR offers mobile certification and confidence building First Aid and CPR Classses. What this means to you is you learn the lifesaving skills of first aid and CPR in your home on your schedule no babysitter needed. We are offering 25% off all classes booked at the fair.
Clean Green Norwex ~ Table #55 – a 20% discount off one item of choice at my table.
Plexus ~ Table #58 – Free Shipping on new orders of 193.00 from now until the end of 2018.
Raw and Tapped ~ Table 63 – Buy two items receive $5 off, buy 3 items receive $10 off at table only.
Great West Inspections ~ Table #66 – Long Term Radon Test Kits: $55 on special for $45, Short Term Testing: $200 now $175, Corentium Home Digital Monitors: $249 now $230, In home Radon Mitigation System Quotes: FREE
Avon ~ Table #70 – 10% off  coupon for orders. No GST
More Coming Soon!
---
Calgary Moms Trade Fair
Sunday, November 4th, 2018
9:30am to 3:30pm
NEW Location!
Genesis Centre – Community Gym
#10, 7555 Falconridge Blvd. NE,
Calgary, Alberta T3J 0C9 (see map)
ADMISSION:
Proudly Supporting the Calgary Food Bank
Adults: $2.00 each
Kids: $1.00 each
(no food donations at this time)
Register to Attend and receive a show bag filled with a ton of information, show specials, coupons and great samples from our exhibitors and sponsors. Qualify for "Registered Only" instant door prizes through out the day and have a chance to win our grand prize with our "Explore the Floor" card.
Want future show updates and information? Join our mailing list to be notified. You can opt-out at any time.