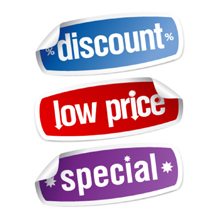 Calgary Moms Trade Fair ~ Show Specials ~ Sunday, April 15th 2018
Table 1 – Modere ~ Have you ever tried liquid collagen? Visit our table to taste a sample, and enter for a chance to WIN a FREE bottle! Receive $10 OFF any product purchase. FREE shipping with a qualified order.
Table 2 – Thirty-one ~ First 20 customers 30% off order submitted
Table 4 – Changes Spa & Salon ~ Come by to enter to win our Gift Basket. We have lots of 1 day specials today only!! Including Mother's Day & Father's Day Specials
Table 6 – Nucerity ~ The first 30 people that order product will get a $12.50 off their purchase
Table 7 – Pink Zebra ~ Sprinkles Jars $12 or 3 for $30. In stock Simmer pots plus one free jar of Sprinkles-$40. Simmer Light with any in stock shade $50 (regular value $100+)
Table 9 – Young Living Essential Oils ~ Purchase a Premium Starter Kit and receive a $25 product credit and resource materials
Table 10 – Norwex ~ Spend $95 and get Kitchen Towel for $10 (reg. $21.99) Spend $110 and get 2 Kitchen Cloths for $15 (reg. $23.98) Get cleaning paste and 2 grey envirocloths for only $51.98 (reg. $70.97)
Table 12 – LeVel ~ purchase 8 week program get a free choice of Pro Bars. (Cinnamon bun or birthday cake flavor) and 25.00 credit
Table 13 – Family Braces ~ any FREE consultations booked at the show will receive a $5 Starbucks gift card when they arrive for the consultation appointment. (must bring business card to the appointment to exchange for the Starbucks card.
Table 17 – Vecova Recreation ~ Please stop by our table and enter for chance to win one of our baskets. We also have a show special of Baby/Child's Neoprene Water Shoes for only $16.50 pair. Excellent for splash pads and pools!!
Table 18 – Organo Nature Care ~ We have a MAGIC BOWL that gives you AMAZING OFFERS upto 40% off your entire purchase.
Table 20 – Avon ~ Our famous Avon bubble bath will be on sale 2 bottles for $10! Our popular deet-free bug spray safe for kids 6mos+ will be on sale 2 bottles for only $15!
Table 21 – Divine Spine ~ We offer computerized spinal care that is non-threatening and very gentle. An initial spinal health check and nervous system assessment including X-rays for $40 **$100 savings!!
Table 22 – Botanics for the Body ~ Fathers Day Special! Discounted price on bundled Lumberjack for Men essential products. Mothers Day Special! 15% off on our Organic Hand and Body Lotions. Lil' Sproutz for Baby. Discounted price on our bundled Organic essential products.
Table 25 – Origami Owl ~ with every purchase of $35 or more get a free surprise gift (up to a $30 value).
Table 28 – 2Rare Photography ~ Book a maternity and newborn valued at $600 and get $100 off the package.
Table 35 – Jamberry ~ Visit my table and enter to win a Mother's Day bundle FREE! Book a Pedicure party for you and two friends to receive a FREE pedi pack! AND All nail wraps will be on sale buy 3 get 2 free!
Table 37 – Heritage Educations Funds ~ Visit our table to enter a draw worth for a gift basket $30
Table 47 – Brost Chiropractic & Wellness Centre ~ Book today and get a Full Nervous System Evaluation for only $40 ($120 value)Table 51 – Beloved Baby ~ One for $ 8.00 Two for $ 15.00
Table 50 – Krista Manntai Photography ~ Book a story session and receive a FREE canvas enlargement upgrade
Table 55 – Tutor Doctor ~ 2 free hours upon enrollment
Table 59 – MojiLife ~ come by the table, play a game to either win a prize (We have 12 Prizes up for grabs and one Grand Prize Basket with a variety of Products), or get a discount of 5%, 10% or 15% off their purchase.
Table 60 – Busy Hands Media ~ I Spy Bags for $20, regular $25!
Table 62 – Kozy Kat Designs ~ We will have gift baskets for that special baby in your life starting at only $30. Bandana bibs, blankets, booties, and more!
Table 63 – Monat ~ 15% off every purchase of $50 or more
Table 66 – Rodan & Fields ~ 1 free 'Essentials' item for any preferred customer order placed that day. Choose from a 2 pack lip shield, daily moisturizer, a sunless tanner or a sunscreen
Table 67 – Milashka Photography ~ Book a Newborn Photoshoot today and receive a FREE Maternity Session, Sign up for our mailing list for a chance to win a FREE Mini Session, Purchase a gift certificate for 10% off.
Table 68 – Usborne Books ~ Book a party(Home or Facebook)and receive an additional $30 of FREE books on top of your hostess rewards! *Conditions apply, visit me for more details
Table 71 – Maid of Honour Cleaning ~ book a clean on the spot and receive ANY add on for free
More Coming Soon!
---
Calgary Moms Trade Fair
Sunday, April 15th 2018 ~ 9:30am to 3:30pm
Courtyard Calgary Airport
2500 48th Avenue NE
Calgary, Alberta T3J 4V8 (see map)
ADMISSION:
Proudly Supporting the Calgary Food Bank
Adults: $2.00 each
Kids: $1.00 each
(no food donations at this time)
Register to Attend and receive a show bag filled with a ton of information, show specials, coupons and great samples from our exhibitors and sponsors. Qualify for "Registered Only" instant door prizes through out the day and have a chance to win our grand prize with our "Explore the Floor" card.
Want future show updates and information? Join our mailing list to be notified. You can opt-out at any time.