8 Reasons To Join Us at The Calgary Moms Trade Fair – Apr 23rd
8 Reasons To Join Us at The Calgary Moms Trade Fair on April 23rd

The Calgary Moms Trade Fair is just around the corner! It will be a day full of family fun, incredible vendors, and awesome activities. Need more reasons to check it out? Here are 8 reasons you should come to the Calgary Moms Trade Fair:
.
1. Meet other moms and talk to grown-ups for a change.
 .
2. Find life-changing lifestyle products from over 70 different businesses.
.
3. 100% of your admission goes to the Calgary Food Bank.
Adults:$2.00 each
Kids:$1.00 each
 .
4. Free samples and other goodies in your show bag.

(Contents may vary)
 .
5. The insane door prizes. You may instantly win a prize when you check in at the registration table.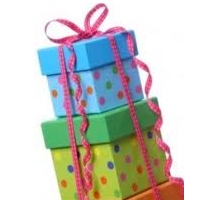 .
6. It's an excellent reason to get you—and your kids—out of the house.
.
.
.
.
.
7. Face painting! Kids go crazy for face painting.
.
.
.
.
.
8. And the last reason to go? The mascots! So many fun characters to meet!
9:30-11:00am- Anna, Elsa, Olaf
11:00-12:00am- Spiderman, Jasmine
12:00-1:00pm- Belle, Prince Adam
1:00-2:00pm- Pocahontas, Captain America
2:00-3:30pm- Sleeping Beauty, Batman
.
.
.
.
.
Don't miss out on this one-stop-shop for the latest and greatest in local Momminess.
~~~~~~~~~
Calgary Moms Trade Fair
Sunday, April 23rd 2017 from 9:30am to 3:30pm
Courtyard Calgary Airport ~ 2500 48th Avenue NE Calgary, Alberta T3J 4V8 (see map)
ADMISSION:
Proudly Supporting the Calgary Food Bank
Adults: $2.00 each & Kids: $1.00 each
(no food donations accepted at this time)
.
Moms, Register to Attend and receive a show bag filled with exciting show specials, coupons, business information and great samples from our exhibitors and sponsors. Including a Schick razor and other goodies from CalgaryMoms.ca.
.
Attendees can shop, browse and interact with over 70 local businesses to find the latest in local products and services that are available for your family.  Join us to also learn about legitimate work at home business opportunities. Who knows you may find a new calling.
.
When you register you will also qualify for "Registered Only" instant door prizes handed out through out the day and have a chance to win our grand prize with our "Explore the Floor" card. Remember: You must attend to WIN.
.
Want future show updates and information? Join our mailing list to be notified. You can opt-out at any time
Please share our event with your friends by clicking any of the social links below this post. Thank you. :0)
.