Door Prizes – March 15th trade fair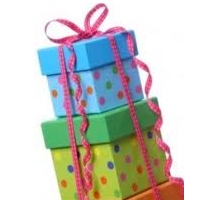 Door Prizes ~ March 15th 2014 Trade Fair ~  Business & Baby Show

Register to Attend and receive a show bag filled with a ton of information, show specials, coupons and great samples from our exhibitors and sponsors. Qualify for "Registered Only" instant door prizes (see below) through out the day and have a chance to win our grand prize with our "Explore the Floor" card.
Door Prizes Available for our March 15th, 2014 Calgary Moms Trade Fair
Face Painter – Party Bugs ~ 1 hour of face painting
Table #1 – Butters & Bubsie ~ a one of a kind "lovey blanket", a set of headbands, and a soother clip.
Table #2 – Sound Sleep Solutions ~ a cheese board w/cheese, crackers & wine
Table #6 – Steeped Tea ~ over sized tea cup clear with three bags of 25 gram loose leaf tea, a cup infuser and some honey sticks & measuring spoon
to see more click here to see the full list.