Show Specials – April 18th 2015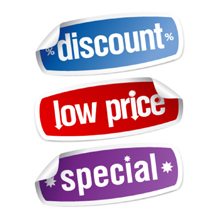 Calgary Moms Trade Fair ~ Business Show Specials ~ April 18, 2015 Exhibitor Trade Show Specials
Table #3 – Velata ~ Mother's Day special! Get our amazing Crepe Maker, a bag of our delicious Crepe mix and a bottle of our handcrafted syrup of your choice! Comes with a beautiful 8×10 print for Mom! All for $78! Huge savings!
Table #5 – Jamberry Nails ~ Visit our table to enter to win a basket of goodies. Offering free shipping on any orders placed at the show.
Table #7 – Emma Marie Photography ~ Anyone booking a family photo shoot the day of the show will receive a $300 voucher toward their shoot.
Table #8 – Scarf makes a perfect gift for Mother's Day! Visit our table #8, check out our great collection of beautiful scarves and enjoy the best price in town. INFINITY scarves start from $5.99! Pashminas are up to 50% off! Don't forget to enter a free draw!
Table #12 – 4Cats Arts Studio ~ Table draw for a FREE 2 day Summer Camp. Child's choice of camp theme (register early to ensure space availability). Age groups 3-5, 5-8, 6-10 years old. See summer camp schedule at 4cats.com/evanston. Visit our table to get your floor passport stamped and receive a 5.00 coupon.
Table #25 – Melaleuca ~ Receive a free peak performance supplement pack worth $90.99 for enrolling and placing your order. The enrollment must be in by April 20th at midnight. You have until midnight on the 30th to place your order.
Table #27 – Joined at the Hip ~ 20% off all items.
Table #28 – Milen Learning ~ Anyone booking a block of tutoring the day of the show will receive a 15% discount.
Table #29 – Thirty One Gifts ~ Order $40 or more and get 3 Oh Snap Bins at $6 each (regular price $12) or 3 Oh Snap Pockets for $6 each (regular price $18). Just for the show, orders over $100 will receive FREE SHIPPING.
Table #32 – South Hill Designs ~ Create a unique, one of a kind Mother's Day family locket today! 10% off all table display jewellery! Brand new jewellery just released this week!
Table #33 – Avon ~ Open your Avon Business for only $10 and receive $50 worth of samples and products to give it a Jump Start, 10% off on all the items from the brochure and or at the table and/ or Complete a Skin Care profile to receive personalized regimen recommendation and a chance to win full size products that suits your profile. (samples available)
Table #38 – Leadership Matters ~ 10% OFF of either of my Summer Etiquette Camps! Good Manners Rock! (5-7 yrs old) & Fearlessly Confident (8-11 yrs old). Help your children to become more confident with these soft skills and have a blast doing it!!
Table #39 – All State ~ EARN $10 IN 10 MINUTES! SAVE HUNDREDS OF DOLLARS ON INSURANCE COST FOR HOME AND AUTO! LET US REWARD YOU FOR SIMPLY FILLING OUT A FORM – NO OBLIGATION TO BUY.
Table #42A – Pampered Chef ~ Mystery Host Draw… every $10 order placed = one entry to the mystery host. Winner receives one piece of cookware at 60% off, multiple items at 50% off and upwards of $25 in free product (**dependent on total sales)
Book a Party: Pick a Prize: all bookings made at the show will receive their choice of prize (added to the host order at show)
Table #45 – Organo Gold ~ Gourmet Organic Coffees, Teas, Mocha, Hot Chocolate and more!! Come by for a free sample or purchase just a hot cuppa….customers receive $5 off any 2 box purchase. Vendors get a free cup with any purchase, including the 3 sachets for $5 special….offered to all. Enjoy!!
Table #48 – Steeped Tea ~ No GST or shipping on cash and carry items (limited quantity). Order an Infusing Stir Stick, 3 – 50g bags of teas (Nuts about Fruit, Roasted Apricot Chai and Cinnamon Hearts Pu'erh) for $27 (savings of 30%) or Order $50 in product and get free 50g bag of Razzle Dazzle Raspberry Rooisbos Tea.
Table #49 – Vexed Clothing ~ All tops are $25 each
Table #50 – Youngevity ~ Mother's Day is just around the corner so why not spoil that special person with all natural gifts from the heart. Spa Beauty Fashion. Youngevity is changing lives and making dreams come true. Join the team and you could win a MK C0llab Tranformation Scarf & added surprises!
Table #51 – Tupperware ~ Special on bowl sets, any orders over $100 from the catalogue will receive no shipping/handling. Any orders over $200 will get a FREE gift plus no shipping or handling. Join my team and get an extra gift for FREE
Table #52 – Never Forget Photography ~ Book your session today and receive 50% off the session price and Enter a draw to win a free lifestyle session of your choice valued at $225.00.
Table #53 – Anshavi Handcrafted Jewellery ~ Browse our extensive collection at the show & receive 20% off all stock items. Also accepting custom orders.
Table #54 – Passion Parties ~ Order at the convention and receive 25% off your entire order, plus if you book a party, and keep your original date, get 40% off one item at your party! Order online after the show and receive 20% off your order, use coupon Passion 50 at https://jennifervilkas.yourpassionconsultant.com/
Table #55 – HH Ventures Landscaping ~ $25 off a Spring Clean up Spring clean up includes: aerate, powerake, leave removal, first cut and trim & fertilizer.  Reg $160-180 pls tax
Table #56 – Jeunesse ~  Instantly Ageless vials only $2.50 (reg $5) "Do you have 2 minutes and want to Erase 10 Years Instantly?"
Table #58 – Mialisia ~ For every $75.00 purchased of our gorgeous VersaStyle jewelry, you can choose any single item and pay only $20.00! VersaStyle means that each strand offers multiple different ways to wear it! They make beautiful Mother's Day, Graduation and Birthday gifts!
Table #63 – From the Ground Organic Gardens ~ "$50 OFF: 8′ X 4′ Starter Package." Doesn't have to be purchased at the show; just mention it when ordering. Our Starter Kit will have fresh organic produce on your table in no time. It is great for experienced gardeners that want to get going fast and hassle-free, and perfect for new gardeners that just don't know where to begin, or need a push in the right direction.
Table #64 – Love & Covet Boutique ~ Use coupon code: Calgarymoms20 for 20% off website purchases April 18-22 at www.loveandcovet.ca
Table #67 – Brittney Bietz Photography ~  20% off all full sessions and a $50 print credit to be redeemed at your session. Session must be booked at the show.
Table #71 –  Stella & Dot ~ Come see our charms and personalized jewelry. Perfect for Mother's Day, birthdays, graduation or to tell YOUR unique story! With a minimum purchase, choose a sterling silver or 12K gold plated birthstone charm (value $19).
Register to Attend and receive a show bag filled with a ton of information, show specials, coupons and great samples from our exhibitors and sponsors. Qualify for "Registered Only" instant door prizes through out the day and have a chance to win our grand prize with our "Explore the Floor" card.
Looking to connect with other Calgary Moms? ~ Meet moms from all areas of Calgary to join playgroups, meet ups, coffee breaks, moms night out, and other fun events. Join Calgary Moms Community today. Membership is FREE!!!