Door Prizes – November 17th trade show
Exhibitor Instant Door Prizes – November 17th, 2012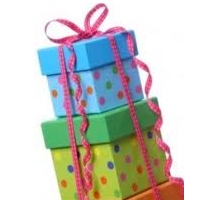 $1,000's worth of instant door prizes available to registered families attending the Calgary Moms Trade Fair – Business Show & Community Sale on Saturday, November 17th, 2012 from 9:30am-3:20pm at the Courtyard by Marriott
Calgary Moms ~ Sleepytime Herbal Tea with decorative tin (10 available)
Dr. For Moms Chiropractic and Wellness Center ~ Baby Buddy Nursing Pillow; 1 package of Weleda Nursing Tea; 1 Dr. For Moms Bottoms Up Baby Bum Spray; 1 Dr. For Moms Beautiful Belly Balm; and 1 Dr. For Moms Baby Bum Balm. The retail value is $125.
Partylite ~ Jar Candle – $35 value
Visalus ~ basket with a number of products. Approximate value $25
Velata ~ 3 Bags of Chocolate $24 value
Stella & Dot ~ friendship bracelet
Epicure ~ gift collection to donate (value of $30)
more prizes will be added – we are still updating :)
Register to Attend and receive a show bag filled with a ton of information, show specials, coupons and great samples from our exhibitors and sponsors at the Calgary Moms Trade Fair. Qualify for "Registered Only" instant door prizes through out the day and have a chance to win our grand prize with our "Explore the Floor" card.